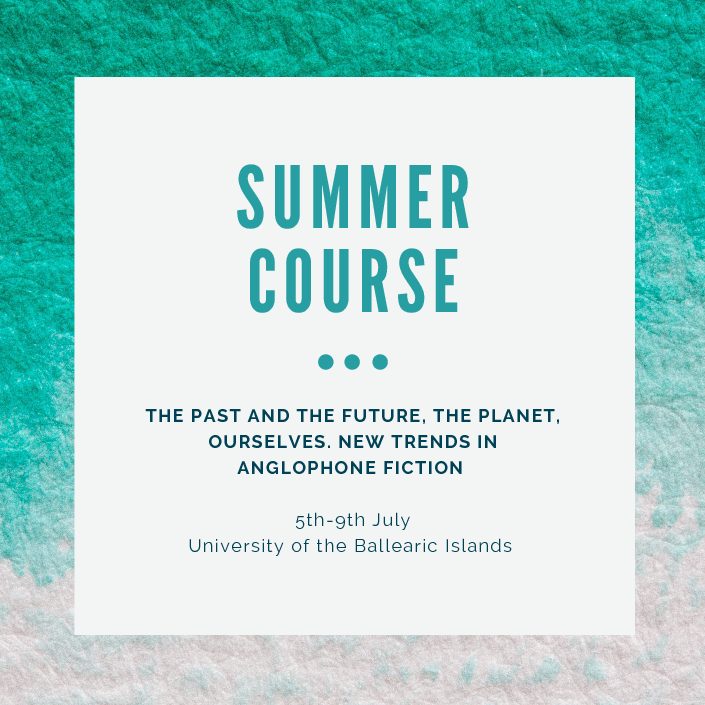 Summer Course at the University of the Ballearic Islands
The summer course «The past and the future, the planet, ourselves, new trends in anglophone fiction» will take place at the University of the Ballearic Islands between 5th-9th July. The course is organized by Dr. Igor Prieto Arranz and Dr. Katarzyna Paszkiewicz, members of the research group BRICCS, in collaboration with the Research Network 21st Century Anglophone Literatures: Narrative and Performative Spaces (RED2018-102678-T).
The course provides an overview of literary and audiovisual fiction produced in Anglophone countries, despite the fact that it is consumed, in an essentially globalized word, by audiences from all over the world and that, like a mirror of the contemporary world, reflects the great concerns of human beings in the twenty-first century.
Find below the programme:
Opening Lecture: «Unsettling Strangers: Contemporary Writing as (Neo)Cosmopolitan Dialogue» (Isabel Carrera Suárez, Universidad de Oviedo)
«Activist Poetics: Resisting the Irish Asylum System in Literature and the Arts» (Aida Rosende Pérez, UIB)
«The Contemporary Short Story in Britain: Borders, Intersections and Identity» (Laura Lojo, USC); or  «The Historical Turn in 21st-Century British Fiction: The New Historical Novel and its Intersections with Other Genres» (José Igor Prieto Arranz, UIB); or «'Framing the Frame': Spectral Lives, Grievability and New Trajectories of Affect in Contemporary
«British Theatre» (Mireia Aragay Sastre, UB) or «Texts within Texts: Translation and Linguistic Mediation as Creative Elements in Contemporary
«Anglophone Literature» (Fruela Fernández Iglesias, UIB); or «Queer Ecological Transitions in LGTBQ+ Road Movies: New Approaches to 'Coming Out' in the Anglophone Audiovisual Fiction» (Rubén Jarazo Álvarez, UIB); or «Narrating the Apocalypse: 21st century Cli-Fi in US Film and Literature» (Katarzyna Paszkiewicz and Andrea Ruthven, UIB); or «21st Century Speculative Fiction and Eco-Futurism: A Literary Approach to British and American Texts» (Rosa Moreno, UIB); or Workshop: «Self-Exploration and Imaginative Biotopes in Climate Fiction: The Climate Problems of Today and our Hopes for the Future» (Jane M. Ekstam, Østfold University College, Halden).
For more information about the course and inscriptions click here.